<<Designers Corner is the place where Parametric Designers talk about their work. There is a story behind every model, and who better to tell the story than the designers themselves? In today's episode we had a chance to talk to Italian computational designer Marco Traverso.>>
Who is Marco Traverso?
Marco Traverso is an Italian Computational/3D Designer & Developer from Rome, Italy. He has an academic background in Mechanical Engineering and have always worked at the crossroads between Industrial and Transportation Design, Architecture, 3D Modeling & Visualization and Software/Web Development.
He currently focuses on Computational Design and now works as a Parametric Design Consultant, Grasshopper Trainer and Freelance Designer for studios and companies around the world.
Marco also the launched Car Body Design back in 2004, a very popular website amongst Car Design aficionados up to this date, which focuses on Automotive & Industrial Design.
1. Hi Marco! Thank you for joining us. Let's start with a bit of your background and why you're doing what you're doing right now.
Hello and thank you for having me here!
I'm from Rome, Italy and I studied Mechanical Engineering. Since I was quite young I've been very passionate about cars, computer graphics, computer programming, drawing and design.
I wasn't sure about what I wanted to become, so I thought this path could be a "compromise" that would allow me to deal with all these topics, even if I sometimes questioned my decision. In hindsight I must say that's exactly what happened!
After university I worked as a Design Engineer and then as self-employed in a variety of fields: from web publishing (with the Car Body Design website) to CAD modeling and programming, CG visualization, software development.
2. Tell us a bit more about Car Body Design. When and why did you start it? Who should check it out?
I launched Car Body Design in 2004 as an extension of my personal website marcotraverso.it, where I published my university thesis on the design of automotive space frames (which is still online by the way).
It was originally conceived as a repository of technical papers and articles on automotive engineering and design, then I started publishing more design-related material, from technical papers to drawing and 3D modeling tutorials.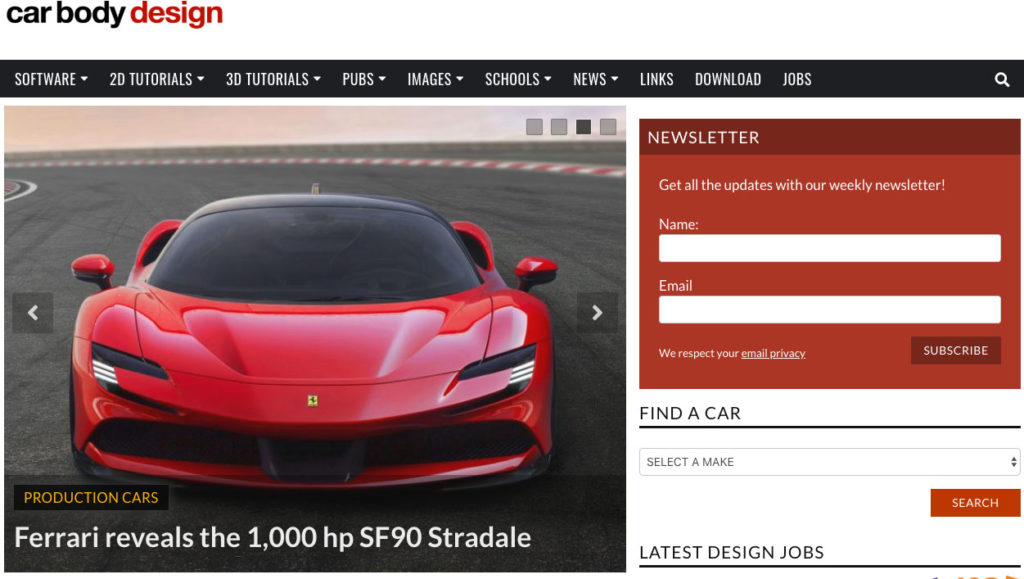 carbodydesign.com was launched in 2004 and is a leading website in the automotive and industrial design fields, with over 2 million pages visited every month.
The website started to gain traction and within a couple of years it became my main occupation and a well-established resource in the field.
The audience is primarily made of professionals working in the Automotive Design Industry, as well as car design students, but there are also many industrial designers and car enthusiasts!
In the future we'll publish more 3D design-related content, while my 3D work and research is published on my personal site and - soon - on ParametricProject.net.
3. That's great! What's your first "design-related" memory?
I have a few of them: I loved drawing since I was a small kid, I remember I knew from memory all the color codes of the Stabilo markers and colored pencils!
Regarding the digital part of design, I've been always passionate about computers and computer graphics. At 12 years I coded a Basic program on the Apple IIc to display solids in perspective, while two years later I designed a couple of video games on the Commodore 64 using a program called SEUCK.
Regarding cars, I remember reading the "Auto & Design" magazine back in the mid 1980s. It's amazing how my interests haven't changed that much in all these years!
4. Which one is your software of choice and why?
I have always used Rhino since the early versions, and I started using Grasshopper in 2012. I immediately fell in love with the philosophy behind it and spent a lot of time learning how to use it for different purposes, from the more common "generative design" shapes, to solid CAD modeling and creative concept design.
Last year I made a significant change and I decided to focus all my effort and energy on Parametric 3D Modeling. I still manage Car Body Design, but I'm now quite busy working as a 3D design consultant and Grasshopper trainer for design studios and engineering companies around the world.